Follow The Gourmet Gays!
As part of our extended food community we like to mention to our customers outstanding websites, blogs and recipes to look at for inspiration. Well look no further than these chaps: The Gourmet Gays! As they say:
"Thegourmetgays are Stephen, Andy and Carl as well as some other people who may pop up from time to time. Stephen and Andy have know each other for over twenty years and after travelling the world together have experienced an array of culinary experiences in what must be over 100 different countries. Both have worked in catering so you can safely say we are qualified to have a voice. Carl is Stephen's boyfriend and adds a bit of sparkle here and there, especially on the baking front.
The one thing that we all have in common is our love of food and all things related so we wanted to share our passion with you.

We are going to use this website as a kind of journal, a diary, a way of sharing our experiences, ideas and opinions with others. It will evolve and grow in time and it will be a nice little journey that we hope you will enjoy.

Our recipes are our own unless otherwise stated we hope that you will give them a go. They are recipes that will be suitable for the home cook with ingredients you can buy anywhere. We are not aiming to be the next big thing, we are unlikely to be the next quinoa queens or asking you to buy coconut aminos and definitely won't be recommending you try yeast flakes as a substitute for cheese.

Our reviews will be based completely on our own opinions, honest, opinionated at times and worthy of a listen.

Anything we recommend will be genuine, we have been there, or bought it, maybe used it or just love it and feel it is worth telling you about it."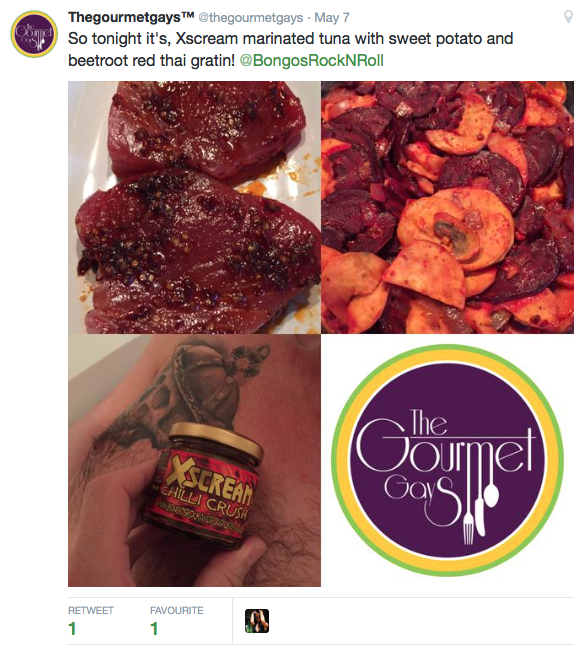 We met at The Lowry Food Festival where they bought some Bongo's products and proceeded to tear up Twitter with their stunning photos and recipe ideas.
But don't take my word for it pop off and visit their fabulous new website and take a look - they really know their stuff and Bongo and I think that they officially ROCK!!!!! Get them now before they get too famous!